Strawberry & Vegetable Plugs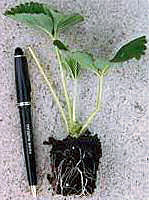 We've been growing plugs in-house for the past 20 years, ever since the concept was first introduced. We hate to sound boastful and use the "expert" word, but it more than likely does apply. What really sets us apart is that we are also growers of these crops ourselves. We keep up to date on the latest and greatest techniques, but we're also the first to be testing these new strains and methods. We know first hand what really works, and what doesn't.
We can offer custom orders of our plugs, which can be shipped anywhere by Fedex. We can also deliver within a 150 mile radius of our southside Virginia location. Customer pickups are also welcomed.
We don't attempt to be the cheapest supplier around. The quality of our plants and our customer service add value that will in the end speak to your bottom line.
Another things that sets us apart is that verybody here is one phone call away. We try very hard to share with you all the knowledge we have.
We also work very hard to stay abreast of the latest trends. Anything you read about in the trade magazines you can get from us.